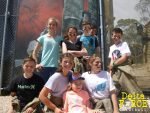 Over the last 10 years Delta Force Paintball and the Australasian Paintball Association (AUPBA) have campaigned the NSW Government and NSW Firearms Division, in an effort to instigate positive reform to the paintball industry. Today we received confirmation that these proposed changes have been approved by Cabinet and are likely to come into full effect over the coming months.
The key points from this Cabinet approval include:
The NSW government has agreed to modernise the regulatory structure and reduce red tape for the paintball industry, while maintaining robust public safety controls.
The Government intends to introduce legislation in 2018-19 which will give effect to the new regulatory scheme.
Under the new scheme, responsibility for regulating the industry will transfer from NSW Police to the Department of Finance, Service and Innovation (DFSI). There is expected to be a reduction in the minimum age for players, and streamlining of the permit system. Consumer protection and community safety remain two of the highest priorities for the government and these considerations underpin any legislative changes.
It will take some time after the legislation passes the NSW Parliament to commence the new regulatory scheme – DFSI will need to put in place to the new IT infrastructure to support the scheme, and venues will need to ensure that public liability insurance, working with children checks and work health and safety systems are updated to prepare for these changes.
DFSI looks forward to continuing to work with industry during the transition phase.
Similar restrictions exist in the QLD paintball industry where the minimum age for paintball is 15 years old. Delta Force Paintball and the AUPBA have been working hard to realign the rules and regulations to fall inline with other more forward-thinking states and to now fall inline with the NSW paintball reforms.
It's an exciting day for paintball advocates and operators across New South Wales and we're hopeful that this positive change will help instigate positive change to the QLD paintball industry. The two NSW-based Delta Force Paintball centres are now busily preparing to open their doors to a new, younger market with bespoke paintball playing arenas and customised paintball equipment.
For further details on the NSW paintball reform and minimum age drop click here.