There are many reasons why Delta Force are the world leaders in paintball. One of those reasons is our high standard of paintball equipment that we provide for all players when they come to Delta Force Paintball Petrie. We strive to maintain the highest safety standards at our centres, and we have a 100% safety record to prove it.
---
Paintball Equipment – Headgear
We offer our players the very latest in US-Spec full head protection goggle and headgear system. With our full head-protection goggles, your face and head are completely out of harms way and you are protected from any paintball fire. You will be able to enjoy the days with comfort and safety.
---
Paintball Equipment – Body Suit
While playing with us, you will be provided with a full-body suit. These overalls have been custom-made just for Delta Force to make sure you can blend in to your surroundings, but so you are also safe while playing at our Queensland location.
---
Paintball Equipment – Torso Protection
Do you want to play paintball, but you're a bit worried about the oncoming paintballs? Have no fear, Delta Force Paintball is here! We now supply the latest custom designed body armour to all players free of charge, allowing you to play the sport without any fear of impact of paintballs.
---
Paintball Equipment – Neck Protection
All Delta Force Paintball combat suits come with fitted, protective padded collars, combined with the head gear. This is so you can play the game without fear of potential paintball shots to the neck.
---
Paintball Equipment – Paintball Markers
We stock the 0.68 calibre Inferno Paintball Marker. The Inferno is a rapid, well finished paintball marker that has a high degree of accuracy and speed while you are rattling off paintballs on the field at even the most intense moments.
---
Paintball Equipment – Ammunition / Battle Packs
Don't run out of ammo soldier! Make sure you have plenty of ammo during the battle – getting caught without ammo could mean the end for you. Our battle packs can carry up to an additional 400 paintballs on the field at one time, making sure even the most trigger-happy of all players will have plenty of balls to beat the competition.
---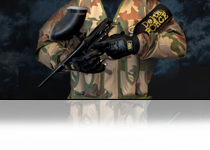 Paintball Equipment – Tactical Pack Upgrade
Do you love the smell of napalm in the morning? Well, we don't actually have napalm but the Tactical Pack Upgrade will provide you with all of the firepower you need on the paintball battlefield. Boasting an impressive 30 balls per second firing capability, the DYE Rail semi-automatic marker is pinnacle of paintball weaponry. Coupled with the quick reload 800 ball capacity tactical vest, you'll put Rambo to shame with this optional upgrade package. Available for $49.95, stocks are limited so upgrade on the day before it's too late.
---