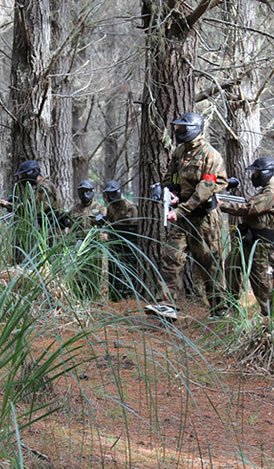 You might be wondering, why choose Delta Force Paintball? Whether you are planning a birthday party, corporate event or bucks/hens day – Delta Force Paintball will try its hardest to make it a day you won't forget. We strive to have the friendliest, approachable staff and the most amazing paintball experience in Australia.
Here are just 10 reasons to choose Delta Force Paintball:
The highest quality game zones over any other paintball field. Ever.
Full head-protection and goggle system (For more on the subject, click here)
Custom designed Body Armour, only at Delta Force Paintball
State-of-the-art paintball markers
Professionally trained marshals
The highest rating by the AUPBA (5 Stars)
We have full public liability insurance
Many celebrities choose to play with us (See More)
4 million players and counting have played with us
Those are just some of the reasons for visiting our amazing paintball centre. If you are still unsure about choosing us, no problem! You can call our friendly call centre staff on the number listed above, or you can get in contact with us from this page. Thank you for your interest in Delta Force Paintball!